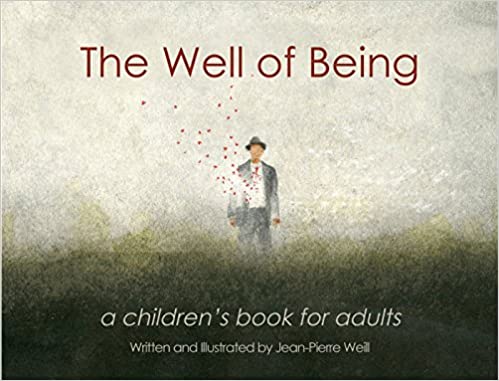 This past Christmas, I gifted Jean-Pierre Weill's The Well of Being: A Picture Book for Adults (Flatiron Books, 2016) to a number of friends. I stumbled upon it a couple of years ago when I was devouring hundreds of picture books for children as part of my MFA studies. With one or two lines of text per double-page spread, The Well of Being is indeed a picture book. Only rather than filling 32 pages, Weill's masterpiece tops out at nearly 200. And every page is exquisite.
So I added it to my collection, where it sat untouched for many months. Then in 2020, it found its way back into my hands, filling my artists' well and reminding me of what I know to be true: "Well-being is generated not from the outside but from the inside."
As he puzzles and paints his way through an intimate, layered, and often humorous exploration of the nature of being, Weill's spare, lyrical text and evocative watercolor illustrations provoke, inspire, and delight. Every time I open it, I discover something new on the page – a word, a phrase, a color, a texture – that touches and uplifts me in spite of the chaos and uncertainty.
As 2020 came to a close, I was compelled to put Weill's magical exploration of being into new hands, and my friends immediately began gifting the book to others. The Well of Being is that kind of book.
"We appreciate the fleeting marginal things scattered everywhere. And when there's drama about, we remain at home in the world," Weill tells us.
Yes, we do.
Take that, 2020.
Learn more about The Well of Being or order it from our Bookshop HERE.