My Time Is Now: Discovering and Designing an Unparalleled Next Chapter
Watch: Love of Aging Destination Workshop Video

What are Love of Aging Destination Workshops?
Love of Aging takes curious explorers on journeys to magical locations, journeys of personal discovery, creativity, and renewal. Our destination workshops explore a new narrative for aging and are a celebration of cumulative wisdom, life experiences, and the freedom to go for it.
Our Magical Destination for 2024
Our April 2024 destination workshop will take place in the Pueblo Mágico (Magical City) of San Miguel de Allende, Mexico. Located in the heart of Mexico in the state of Guanajuato, San Miguel de Allende is a UNESCO World Heritage City, offering a colorful, historic Spanish Colonial atmosphere with modern comforts. The buildings, public square, and cobblestone streets in the city center have been preserved much as they were 250 years ago. San Miguel de Allende is renowned for its hospitality and was voted #1 Best City in the World in Travel and Leisure's 2021 & 2022 reader surveys.
Accommodations
My Time Is Now will take place at Casa Angelitos, a charming boutique hotel nestled on a hillside with a lush private garden and a stunning sunset view of the city and surrounding countryside, which will also house workshop participants.
Workshop Dates
Arrive Nov 7, 2024, Depart Nov 14, 2024 (6 Workshop Days, 7 Nights Lodging)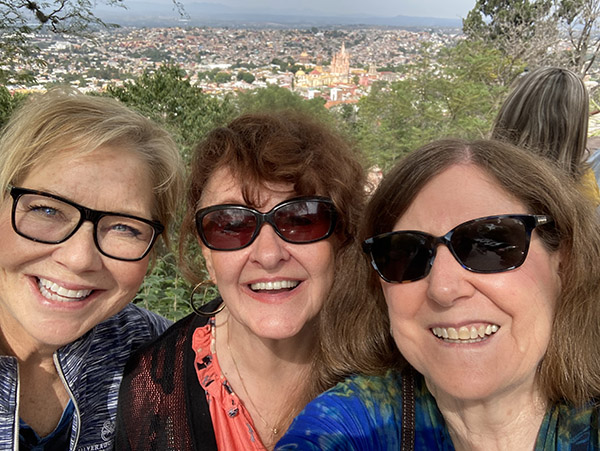 Intentions for the Workshop:
We will immerse our explorers in the magic of San Miguel de Allende.
We will provide curated sensory experiences and coursework that free up your imagination, open up your perspective, and shake up your view of aging.
We will take you on a journey in which you will discover and design an unparalleled next life chapter.

Workshop Leaders:
Candace Shivers, Liz Dietz, Maureen Charles… and the City of San Miguel de Allende!
Open to:
People age 50+
Includes:
✓ Daily workshop sessions
✓ 2 half-day excursions
✓ Visits with locals in private homes
✓ 7 breakfasts
✓ 2 hosted dinners
✓ 2 hosted lunches
✓ 2 hosted cocktail parties
✓ Daily coffee and tea service

✓ Lodging
✓ Daily snacks
✓ Maid service
✓ Airport transfers on arrival and departure days
✓ 2 Pre-Workshop Sessions: Wednesdays, 4:00-5:30 pm PST
Dates TBA
✓ 2 Post-Workshop Sessions: Wednesdays, 4:00-5:30 pm PST
Dates TBA

Tuition ranges (depending on room type):
Single Room: $3905-$4325
Double Room: $3625-$3800
Minimum Deposit: $1000. Click here to pay deposit online.

Download Download April 2024 Destination Workshop Application
Download "About Your Destination Workshop" (Includes workshop details, activities, and answers to frequently asked questions.)