Before retirement, Sandy Owen was computer engineer by day, but best known as a recording artist, playing his own compositions on piano. He released a dozen albums in the 70's, 80's and 90's and was played regularly on radio and TV.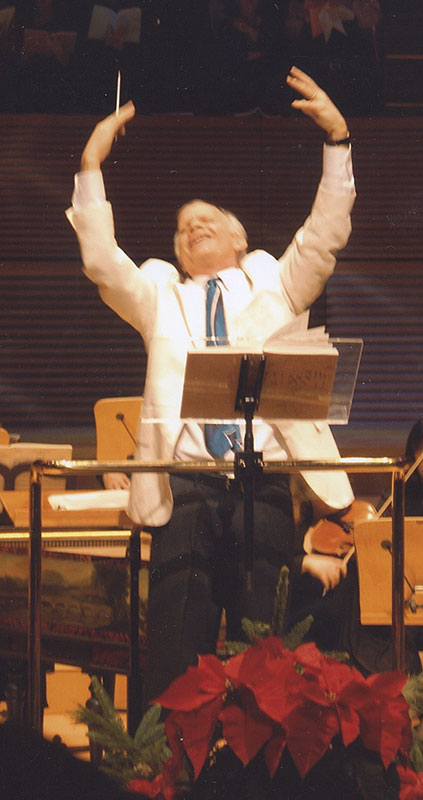 What do you love about aging? Having time and experience to discover what's really important to me, and to indulge my curiosity.
What is your idea of a moment of perfect bliss? I had 4 minutes and fifteen seconds of nearly overwhelming continuous bliss when I conducted the Hallelujah Chorus Sing-along at Disney Hall with orchestra, organ, and 2,000 voices. (I've attached a photo of that experience.)
What was one of your biggest "aha" moments? When engaged to Laura, her (and now my) sons chose–at ages 4 and 6–to use my last name. It became clear that I was really a dad.
What hopes and dreams did you have twenty years ago? The kids were then 14 and 16, and the real goal was to have them become happy and healthy adults who would, in their own ways, be contributing love and positivity in the world. That dream became real.
What are you most proud of yourself for? I'm most proud of not messing up my kids or my marriage too much. They're still the core of my life, so I must have gotten something right.
What would you like to be remembered for? I'd like to be remembered as the best looking man that ever lived, but that seems unlikely at this point. If am remembered at all, I'd like it to be for finding real joy in curiosity.
What talent would you like to have? I'd love to be able to tell a really good joke.
What do you most treasure? It's a boring answer, but what I truly treasure most are my family and friends.
If you could invite 3 people - living or dead - to dinner, who would you invite? Socrates, Sir Isaac Newton, and Hillary Clinton. Imagine the conversation!
If you could have one great adventure, what would it be? Going to space.
What's your favorite word? "Phlom" is a word that I made up with my kids... and
it means anything you want it to mean. Plus it's fun to say.
Who's your favorite musician/band? Phillip Glass.
Among the places you have traveled to, what was your favorite? Great Britain. Not entirely sure why, but it just feels good being there.
What's a place you would love to travel to and have never been? Antarctica.
What is your favorite guilty pleasure? The soap opera, "The Young and the Restless."
What's your favorite sound? The sound of my wife Laura breathing next to me in bed.